HOW TO DESIGN AN INVITING ENTRANCE HALL
Your hallway is the first thing that people will see when they enter your home. Despite this, it's surprising how many people neglect the entrance hall in favour of renovating other areas of the home. Your hallway can set the tone for the rest of your property and make your home feel more inviting.
Do you want to provide your guests with the 'wow factor' when they walk into your home? If so, it's worth taking some time to design and renovate your entrance hall. Interior designer Ryan McDonough at MyJobQuote.co.uk has teamed up with a range of interior design and home experts to discover the best ways to create an inviting entrance hall. Take a look at what they had to say below.
Keep On Top of Clutter
Clutter can very quickly build up, and when you're used to it being there, you may not even notice it. However, other people will. When people visit your home, they will notice the clutter. House interiors specialist Zev Freidus at ZFC.com advises it's best to keep the entrance hall as open and clutter-free as possible.
"This prevents an overwhelming feeling upon entry and allows guests to feel welcomed into your home from the moment they step foot inside," says Freidus. Consider investing in some clever storage solutions. Have a sort-out and get rid of anything that doesn't need to be there. Anything that you want to keep hold of see if you can find somewhere else for it to go when you're not using it. Try to keep the floor space in your hallway as clear as possible to make it seem more inviting and less overwhelming.
Choose The Right Furniture
It can be difficult to choose furniture for your hallway since they're often limited in space. Henry Brook, interior designer and founder at The Page, recommends choosing specifically designed furniture for your entrance hall. "Pieces like console tables or hallway benches can provide both form and function by providing extra storage for items like scarves, hats, and shoes," explains Brook.
"Adding a few statement pieces such as a side table or decorative mirror can help to create a polished look", he continues. "Textiles like rugs can also be used to add style
and texture to the space." Consider adding an area rug in an eye-catching pattern or vibrant colour to help define the entrance while also bringing warmth and energy to the space.
Paul Corazza, Executive Director of Independent Property Group, suggests, "A console table against a wall or a round table in the middle of the room can make a strong statement." A small table in your entryway can also serve various purposes. It can accommodate a bowl for keys, a stylish basket for your mail, and a welcoming lamp or fresh flowers to welcome guests.
Make a Statement With Wallpaper and Art
You can make a big statement in your entrance hall by simply making use of wallpaper and art. Leigh McAlpin, an interior design expert at Classic Architectural Group, suggests, "For two-story entries, consider an over-scaled wallpaper. It gives a grand appearance but brings the scale down to a more normal height." Combine your wallpaper with a stylish rug or stair runner for added interest.
Art and photographs can make perfect focal points in the hallway. This is a great way to show off your personality and style in the room. Consider adding a few bold art pieces in the hallways in interesting frames. Alternatively, you can make the space personal by showcasing some family photographs or pictures that you've taken on days out.
The Power of Lighting
"Lighting plays a pivotal role in creating an inviting atmosphere," says Rich Mullins, interior design expert and founder of H2O plumbing. "Consider a well-placed pendant light or a stylish chandelier that not only illuminates the space but also adds a touch of elegance."
Entrance halls are usually quite small and don't often get a lot of natural light. A large statement light in the centre of the ceiling can make a huge difference in the appearance of the room and can really help to pull the whole room together. Mullins suggests, "Soft, warm lighting can make your entrance hall feel cosy and welcoming."
The brighter you can make your hallway, the more welcoming it will seem. After all, nobody wants to find themselves stumbling around in the dark when they enter a property.
Create Balanced Symmetry
You can achieve visual harmony in your entrance hall by using balanced symmetry in your décor choices. "Place matching or complementary decor items on both sides of the entryway, such as matching lamps or potted plants," says Victor Cheung, Feng Shui expert and founder of Feng Shui Nexus.
What you can do with the space will depend mostly on the amount of space that you have in your entrance hall. Larger entrance halls are a lot easier to work with as you have more space to place things on both sides of the hall. If you have a smaller hallway, you can create symmetry by placing a runner down the middle of the hall or placing equal-sized artwork on opposite walls. "Symmetry creates a sense of order and balance that's visually pleasing", Cheung adds.
Add Plants and Greenery
"A touch of nature with indoor plants or fresh flowers can breathe life into your entryway and make it more inviting," says Ayman Zazish, home expert at Persimmon Design. Consider adding a large potted plant in your hallway or a smaller plant on a console table. Adding plants to your hallway is a great way to add some additional colour to the space as well as add life to the space.
"Large ferns, snake plants, or spider plants can bring vibrancy while small succulents on shelves or side tables can add a touch of greenery", suggests Keith Sant, Founder and CEO of Sell My House Company. "If you're feeling creative, why not go for a plant wall? To create a tropical look, try hanging macrame planters or baskets filled with lush ferns and greenery," Sant adds.
Think About The Colour Scheme
You can use colours in your entrance hall to create an inviting atmosphere. "Choose colours that will help establish the mood you're going for, such as light neutrals for a more calming, homey feel and brighter colours like reds or oranges to make the space feel energized", says Mark Buskuhl, Founder and CEO of Ninebird Properties.
"Try to use at least one colour throughout the room in décor items such as rugs, artwork, furniture pieces, etc., to tie everything together," says Buskuhl. It's important to consider a theme for the room and choose colours that match the aesthetic that you're going for. Avoid using too many different colours, as this could come across as overwhelming.
If you want to create a simple and bright hallway, consider painting the hallway a shade of white or cream and then use colours in the accent pieces. When you create a colour scheme with accents instead of the walls, it means that you can switch up the colour scheme more easily and more often whenever it suits you. This is also great if you like to switch up your colour scheme according to the change in seasons.
Make Use of Mirrors
One of the best ways to make your entrance hall feel bright and airy is with the use of mirrors. "Mirrors can make a small entrance hall appear larger and brighter," says Ilia Mundut, Founder and CEO of HeftyBerry. "Place a large mirror on one of the walls to reflect light and create an illusion of space", Mundut continues. Mirrors also make great decorative pieces. You can get mirrors in all different shapes, designs, and sizes. Choose a mirror that suits the space that you're putting it in, and that fits in well with the aesthetics of the room.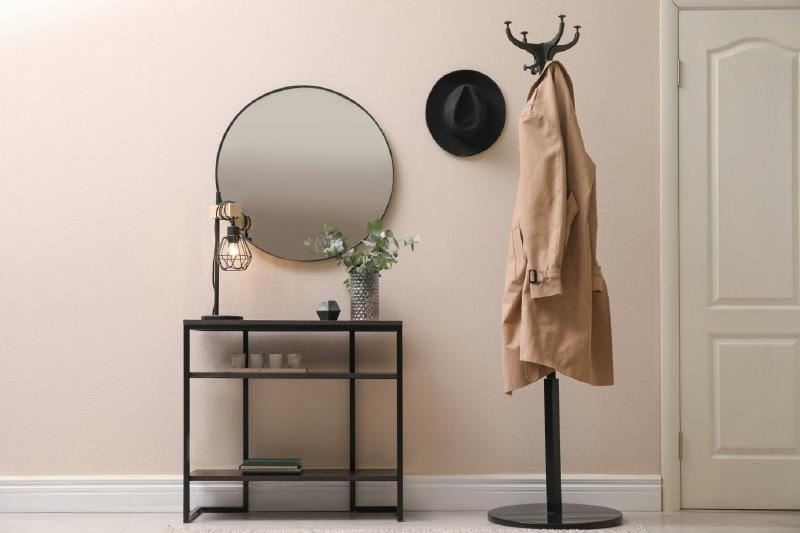 Naheed Mir, an interior designer at RugKnots, claims, "These days, blob mirrors are making a huge noise in the interior design world. Hanging a blob mirror in any shape or size will bring a chic vibe to your entrance hall. You can pair it with a hand-painted console table for a trendy and rocking style."
Final Thoughts
As you can see, there are many things you can do to create a welcoming and inviting entrance hall. Above all, you want to make sure you are happy with your final design since you'll be the one setting foot in there every day. Keeping the space clean and tidy will help to ensure that your entrance hall looks great at all times.
WANT TO FIND OUT MORE ABOUT HOW TO TRANSFORM YOUR HOME and garden? Give your property purpose