HOW TO RENOVATE A KITCHEN ON A BUDGET
Renovating a kitchen is a big job and usually comes with a high cost. However, with the current cost of living crisis, many homeowners are struggling to afford extravagant upgrades such as a kitchen renovation for their homes.
If you're interested in renovating your kitchen but struggling to find the funds, there are some smaller renovations you can complete. Plus, there are several ways in which you can save money on your remodelling plans.
Kitchen design expert Penelope Jacobs at MyJobQuote.co.uk has teamed up with several kitchen experts and interior designers to create this list of ways to renovate your kitchen on a budget. These expert tips can help you achieve the kitchen of your dreams without breaking the bank.
Strategically Splurge on Key Elements
The cost of a brand-new kitchen can very quickly add up. However, if you strategically organise your budget, you can still get some of the key features that you want for your kitchen while saving money in other areas. Focus your budget on one or two standout features that make an impact, like a statement backsplash, high-end faucet or luxury vinyl plank flooring.
"A client of mine had her heart set on a marble subway tile backsplash, so we saved money by keeping the existing cabinets and counters but splurged on that eye-catching backsplash that became the focal point," says Rosie Elliot, kitchen designer at Kitchen Appliance Answer. Think carefully about what you want to achieve with your new kitchen and determine which aspects are most important to you. That way, you can set your budget accordingly.
Paint Your Kitchen Cabinets
"One of the easiest and cheapest ways to transform your kitchen is to paint your cabinets," says Tom Hilger, independent remodelling designer and consultant for Deluxe Plumbers. "You can choose a fresh and bright colour, such as white, grey, or blue, to make your kitchen look more spacious and modern. You can also add some contrast by painting your island or lower cabinets a different colour from the rest of the cabinets."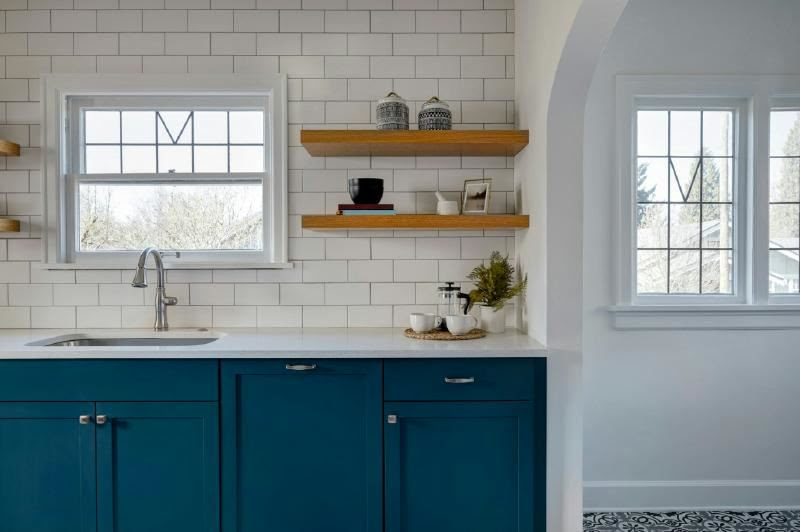 If you paint your kitchen cabinets instead of purchasing new ones, you can save a significant amount of money. You may be surprised at just how much of a difference painting your kitchen cabinets can make. You can completely transform the aesthetic of your kitchen and give your cabinets a new lease of life.
Consider Pre-Loved Items
You can save a lot of money on your kitchen renovation by choosing second-hand or ex-display items. Not only will this help save you money, but it will also help to reduce the amount of furniture that ends up in landfills. You can save a significant amount of money by choosing pre-loved items, and, in some cases, you may even be able to get some items for free.
You could buy your pre-loved items in bits, such as cabinets from one seller and countertops from another, or you could buy a second-hand kitchen as a complete set. If you're buying an entire second-hand kitchen, it's worth purchasing a kitchen that is slightly bigger than your requirements. This will allow you to reconfigure and make the kitchen fit perfectly in your space. You may even be able to sell your current kitchen if it's still in good condition to help offset some of the costs.
Use Peel-and-Stick Tiles
Suppose you are thinking about adding tiles to your kitchen. Whether it be a tiled wall, tiled floor, or tiled splashback, consider choosing peel-and-stick tiles as opposed to real tiles. Peel-and-stick tiles are much cheaper than regular tiles and much easier to install. Most of the time, homeowners can install these tiles themselves, saving money on labour costs.
"These self-adhesive tiles come in a wide range of patterns and colours, so you can create the perfect look for your home," says David Mason, interior designer and founder of Knobs.com. "Plus, they're easy to install – all you have to do is cut the tile to size and stick it to the wall or floor."
Shop Smart For Appliances
When it comes to purchasing the appliances for your kitchen, you want to make sure you think carefully, as the costs of appliances can very quickly add up. "Look for sales, discounts, and scratch-and-dent options," says Dave Bringer, home appliance expert and founder of Bringer Appliance Repair. "You'd be surprised how much you can save without sacrificing quality."
In addition to looking for sales, it's also worth considering whether you would be happy purchasing second-hand appliances. As long as the appliances are clean and in good working order, there is no reason why you can't choose second-hand options. Consider taking a look at online marketplaces such as eBay and Facebook Marketplace. You may be able to get yourself a great deal on the exact appliance that you're looking for.
Swap Out The Hardware
Replacing your cabinet hardware can make a big impact without breaking the bank. Take a look at the handles on your kitchen cabinets and drawers and picture something new in their place. You may be surprised at just how much of a difference this simple update can make. "New handles and knobs can modernise the look of your kitchen instantly," says Benjamin Stenson, home improvement expert and founder of Norsemen.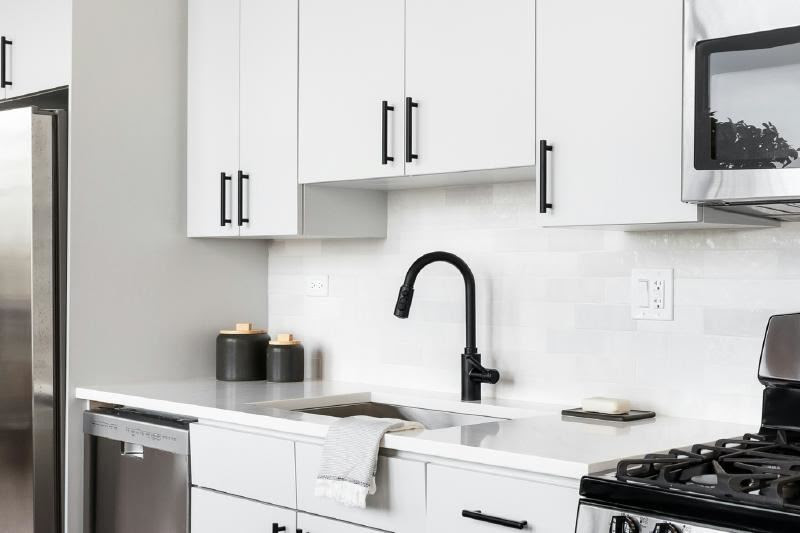 Andre Kazimeirski, CEO of Improovy, agrees; "Installing new, more modern hardware can be an excellent way to freshen up your kitchen without a full remodel. And, even the most novice DIYer can easily tackle this project on their own."
If you like your current hardware but still want to make a change, you could also consider spray painting your hardware in a different colour. This could make your kitchen look completely different without you having to purchase new ones.
Consider Your Flooring Materials
The flooring takes up a considerable amount of space in the kitchen, so a new floor can make all the difference in completely changing the aesthetic of your kitchen space. However, the material costs of flooring can quickly add up – especially if you have a lot of floor space. With this in mind, it's a good idea to look at cheaper flooring materials.
Anu Kurup, an interior designer at Permission Design, suggests considering vinyl or laminate flooring. "Vinyl or laminate flooring can mimic the look of hardwood or tile at a fraction of the cost. Plus, they're durable and easy to clean." You can get laminate and vinyl flooring in a range of colours, styles, and designs, so it's very easy to find something to suit your specifications. These types of flooring are also easy to install and can often be completed as a DIY project, helping you save money on the labour side of the costs.
Clean and Re-Grout Existing Tiles
If you don't want to fork out on re-tiling your kitchen but you're looking to improve the appearance of your kitchen, consider cleaning and re-grouting your existing tiles. "Tile splashbacks can get dirty and tired over the years. However, with a little elbow grease, they can often be brought back to life," says Carl Lewis, carpenter and experienced kitchen fitter at TheDIYFix.com
The expert explains, "After cleaning your tiles, remove any loose grout and silicone and replace them with fresh sealants. This will give your tiles a brand new lease of life." Fresh tile grout can make your kitchen tiles look brand new again.
Update The Lighting
"Updated lighting can make a world of difference in your kitchen's ambience," says a Kitchen design expert at SparkleRestoration.com. "Swap out outdated fixtures with modern, energy-efficient ones." Lighting can help to set the scene in the room, so it's important to get this aspect right.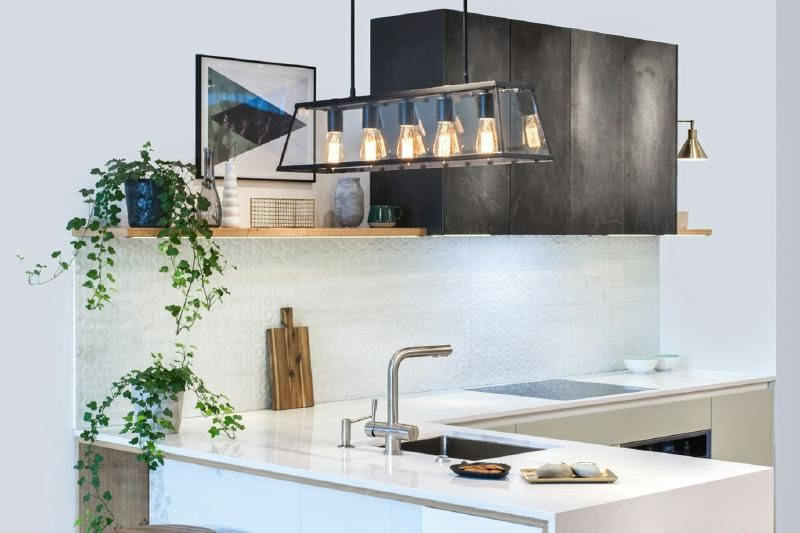 "Consider installing dimmer switches to control the intensity of your kitchen's lighting, allowing for both task lighting and mood-setting options", the expert suggests. If you do this, you will have the option to make the lighting in the room brighter or dimmer, depending on what you're using the room for at the time. Different lighting levels can completely change the look and feel of the room.
Add Open Shelving
"Open shelving is a great way to update your kitchen without spending too much money", says Shaun Martin, real estate professional and owner of We Buy Houses In Denver. "It can be used to provide additional storage space and display items like dishes, glasses, cookbooks, and other decorative accents."
Additionally, you could add a small herb garden to your open shelving. Not only would this look and smell great, but it would also allow you to save money on buying herbs for cooking in the future. "Open shelving is also much easier to install than traditional cabinetry, so it's a great option for DIYers", Martin adds.
WANT TO FIND OUT MORE ABOUT HOW TO TRANSFORM YOUR HOME and garden? Give your property purpose