HOW TO IDENTIFY & GET RID OF MOULD AROUND THE HOME
Mould is a type of fungus, and there are many different types that can grow both indoors and outdoors. Most mould types thrive in wet and damp conditions. Moulds tend to germinate from tiny spores that float in the air and then settle on moist surfaces. From there, the spores reproduce and create mould colonies.
Unfortunately, many different types of mould can appear in UK homes. The experts at MyJobQuote.co.uk have created this list of the most common types of mould that can be found in UK homes and how to identify each one. In addition, we will go over how to get rid of mould and how to prevent mould from appearing in your home in the first place.
Common
Types

of

Mould

in The Home

There are hundreds of thousands of species of mould. Not all types are dangerous, and some types are much rarer than others. However, there are many types of moulds that will commonly appear in UK homes from time to time.

Below is a list of the most common types of mould you may encounter in your home and how to identify them.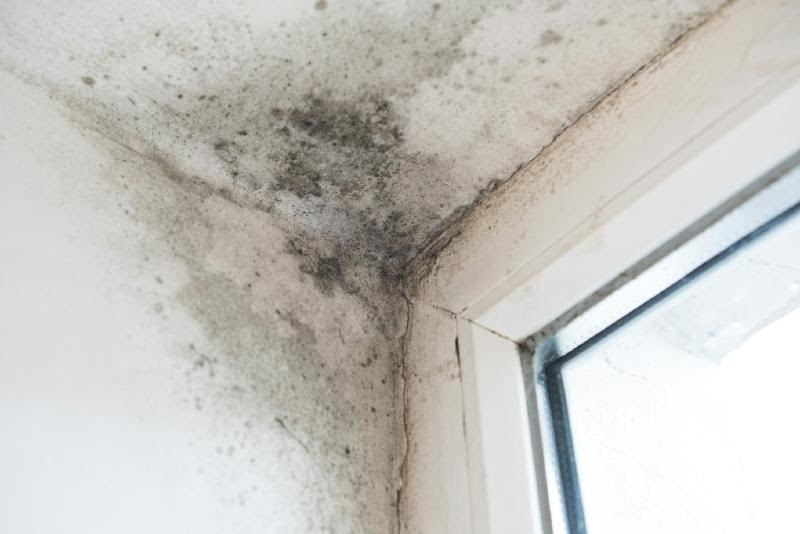 Acremonium
Acremonium typically appears in small colonies of grey, pink, white, or orange moist mould patches that turn powdery. This type of mould is found most commonly in drains, drip pans, humidifiers, HVAC cooling coils, and around leaky windows. It often appears with black mould and will require removal by a professional.
Alternaria
This type of mould is most commonly found in bathtubs, shower enclosures, and around sinks. It has a velvety texture with protruding hairs and appears in brown or dark green shades. When this mould is present in your home, it usually indicates water damage. Alternaria is quick to spread but can be controlled easily with proper cleaning.
Aspergillus
Aspergillus usually appears in spores of grey or green shades that can quickly turn into thick layers of mould. This type of mould is most commonly found on wooden surfaces. If you have a significant Aspergillus infestation, this will need to be dealt with by a professional.
Aureobasidium
You will usually find Aureobasidium in dark, damp, and water-damaged areas such as behind wallpaper, on wooden surfaces, or underneath carpets. This type of mouldusually appears in brown, pink, or black shades but turns dark brown as it starts to spread and mature. When cleaning up small infestations of Aureobasidium, you'll need to wear protective clothing, gloves, and eye protection. For larger infestations, it's best to call a professional for removal.
Chaetomium
Chaetomium usually appears white in colour but will darken as it matures to a grey, brown, or black shade. It can easily be identified by its musty odour. This type of mould is common on wooden surfaces, on wallpaper, under wet carpets, and in water-damaged areas of your property. Chaetomium is often mistaken for black mould, so it's best to leave removals to the professionals.
Cladosporium
Cladosporium can be found in both warm and cold environments. It appears in brown and olive-green shades and has a suede-like texture to it. This type of mould is most commonly found on drapes, carpets, upholstery, and underneath floorboards. You can easily clean small amounts of this mould yourself, but if you have a large infestation, you will need to call a professional for the removal.
Fusarium
Fusarium is often found growing on food but can also be found in wallpaper, carpets, and water-damaged materials. It spreads very quickly and appears in red, white, or pink shades. Wear protective clothing and gloves when cleaning up any small infestations.
Mucor
Mucor is usually found in very wet areas of the home where condensation has formed, such as near leaky windows or doors or near air conditioners. This type of mouldgrows very quickly and turns into thick patches of grey or white mould. It is classed as an allergenic type of mould. Small patches of Mucor mould can be cleaned carefully by yourself. If you have a large infestation of Mucor, this will need to be dealt with by a professional.
Penicillium
Penicillium is velvet-like in texture and appears in a blue-green shade. This type of mould can usually be found in wallpaper, carpets, mattresses and HVAC ducts. It spreads quite quickly, so it's better if you can identify infestations early. Smaller infestations of penicillium can be carefully cleaned by yourself. However, larger infestations will need to be controlled by a professional.
Stachybotrys
This type of mould is also known as black mould and comes in a black or dark green, slimy appearance. It is most commonly found in areas in the home that have been exposed to high humidity and water damage for several weeks. It typically appears behind walls, on wood, and on ceilings. A professional will need to treat this type of mould, and this may include removing and replacing the affected building materials.
Trichoderma
Trichoderma is usually white and green and has a woolly appearance. This type of mould can grow on carpets, wallpaper, and fabrics. It may also appear on surfaces with excess moisture. You can usually clean this type of mould yourself. Just make sure to wear protective clothing and gloves when doing so. It's best to deal with this type of mould quickly as it produces an enzyme that can attack textiles, wood, and paper. Plus, it can also cause damage to building foundations, which can be dangerous.
Ulocladium
This type of mould is most commonly found in bathrooms, kitchens, and basements that have had water damage or that have been exposed to moisture for long periods of time. It typically appears black in colour and appears in clumps. If you manage to catch it early, you can clean up Ulocladium yourself. However, larger infestations should be dealt with by a professional.
How to
Get

Rid

of

Mould

It's important to protect yourself from mould spores by wearing rubber gloves, a face mask, and goggles. Open your windows, but keep the doors closed to prevent the mould spores from spreading to other areas of the home.
Have a plastic bag handy and remove any soft furnishing, soft toys, and clothes that have gathered mould. These will need to be professionally cleaned or thrown away.
Fill a bucket with some water and a mild detergent such as soap used for hand washing clothes or washing up liquid. Use a cloth and dip it in the soapy water. Use this to carefully wipe away the mould. Be careful not to brush it as this could release mould spores. Once you've finished, use a dry cloth to remove all of the moisture from the affected area.
You can also purchase a range of mould-removing products that are great for treating mould. You can usually find these in home stores or supermarkets. Be sure to follow the instructions on the bottle when using these products, and always protect yourself before use.
If you have tried to clean mould, but it keeps reappearing, it's best to call a professional to come and deal with the mould issue. Professionals will be able to identify the type of mould issue that you have and deal with it appropriately.
How to Prevent
Mould
There are several things you can do to prevent mould from appearing in your home. The list below outlines the best ways to prevent any instances of mould in your home:
Ventilate – Open the windows in your home to allow humid air to ventilate out of the property. Try to do this once a day for around 30 minutes.
Prevent Extra Moisture When Cooking – Keep lids on your pots and pans when you're cooking.
Keep Kitchen Moisture In One Place – Keep the door to your kitchen closed when cooking.
Prevent Bathroom Moisture From Spreading – Keep your bathroom door closed when showering or bathing.
Remove Condensation From Windows – Wipe any visible moisture from windows and window frames.
Allow Adequate Air Circulation – Keep furniture away from external walls to allow air circulation.
Keep on Top of Humidity – Use a dehumidifier.
Avoid Drying Clothes Indoors – Try to dry your clothes outdoors whenever possible.
Keep The Home Ventilated When Drying Clothes – If you have to dry your clothes indoors, make sure it's in an area that's well-ventilated with the doors closed to the rest of the house.
WANT TO FIND OUT MORE ABOUT HOW TO TRANSFORM YOUR HOME and garden? Give your property purpose